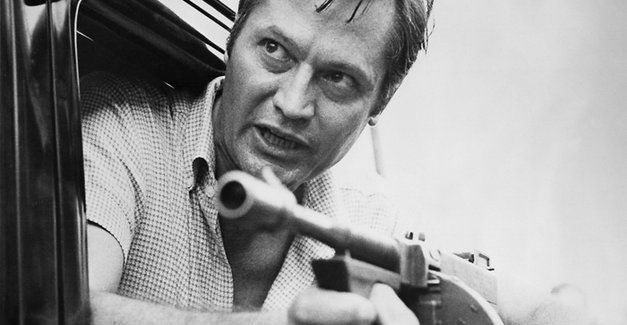 With the release of Corman's World on UK DVD and Blu-ray, the stream of cool Roger Corman related blogs must come to an end. On a personal note, I'm sad to let this fanhub go as Roger Corman is a hero of mine and digging into his vast catalogue of wonderful trashy, violent and energetic B-movies has been a joy.
The sumptuous high gothic-on-shoestring Edgar Allan Poe adaptations, the LSD fractured late 60s biker and youth movies, the women-in-prison flick and hicksploitation and roaring 20s crime movies of the 70s, the cheap Sci-fi and the straight-to-video cheapies of the 80s and 90s. You'll find them all covered here if you explore this blog.
Mainly, I hope what I've written here will inspire you to seek out the Corman's World documentary, whether you're a returning fan or a Corman newbie, and more about this soft spoken professional who inspired a generation of film making talent and left an indelible mark of the American screen.
---
---
---
---
The remarkable story of Hollywood's most prolific and influential writer-director-producer, the legendary Roger Corman, is the subject of director Alex Stapleton's affectionate, witty and hugely entertaining documentary, Corman's World: Exploits Of A Hollywood Rebel, which charts the Oscar winning filmmaker's career from his early days working in the mail room at 20th Century Fox to the set of one of his most recently produced "creature features", "Dinoshark".
Essential viewing for every cineaste, Corman's World is "a delightful tribute" (Variety) to a true Hollywood great and one that proves to be thrilling, fun, informative and frequently touching (witness a rare and genuinely emotional scene featuring Jack Nicholson that, alone, makes this an unmissable documentary).
Leaving no doubt as to Corman's seminal influence on modern-day cinema, the film features enlightening interviews with an incredible cavalcade of Hollywood icons, luminaries and A-listers (many of whom began their own careers working under Corman), including Jack Nicholson, Robert De Niro, Martin Scorsese, Ron Howard, Joe Dante, Quentin Tarantino, John Sayles, Jonathan Demme, Eli Roth, Peter Fonda, Peter Bogdanovich, William Shatner and countless others.
Combining archival footage with contemporary clips and interviews, Corman's World chronicles how one man created an empire, cultivating undiscovered talent and pushing the boundaries of what independent filmmakers could achieve when working outside the studio system. From Corman's original genre-defining works such as "The Fast And The Furious", "The Little Shop Of Horrors" and his classic film adaptations of Edgar Allan Poe stories, to his distribution of the art house films of Bergman, Kurosawa, Fellini and Truffaut and his continuing work as one of the world's leading independent film producers, Stapleton's superb documentary recounts a career that has spanned an astonishing six decades.
Corman's World: Exploits Of A Hollywood Rebel (cert. tbc) will be a Picturehouse Culture Shock Presentation on Tuesday 21st February and will be available to buy on DVD and Blu-ray from 26th March 2012.
Cinema venues: FACT (Liverpool), Cameo Picturehouse (Edinburgh), Duke Of Yorks (Brighton), Belmont Picturehouse (Aberdeen), Hackney Picturehouse (London), Ritzy Picturehouse (London), Clapham Picturehouse (London), Greenwich Picturehouse (London), Stratford East Picturehouse (London), Regal (Henley-on-Thames), Stratford Upon Avon Picturehouse, Abbeygate Picturehouse (Bury), Exeter Picturehouse, The Little Theatre (Bath), Phoenix Picturehouse (Oxford), City Screen Picturehouse (York), Cinema City (Norwich), Harbour Lights Picturehouse (Southampton), Hyde Park (Leeds), Electric Cinema (Birmingham)..
Please install the latest version of Flash.
Distributor:

Anchor Bay

Certificate:

TBC

Release date:

26th March, 2012

Director:

Alex Stapleton

Stars:

Roger Corman
Jack Nicholson
Robert De Niro
Martin Scorsese
Ron Howard
Joe Dante
John Sayles
Quentin Tarantino
Jonathan Demme
Eli Roth
Peter Fonda
Peter Bogdanovich
William Shatner
Credits
Distributor:

Anchor Bay

Certificate:

TBC

Release date:

26th March, 2012

Director:

Alex Stapleton

Stars:
Cormans World Live on the Web
Links
Corman's World Resources

Corman Film School Alumni

Roger Corman Trailer Park

B-Movie Genre Guides

Roger Corman Resources

Articles & Features
»More Links
Cult Labs is not responsible for content of 3rd party sites
Comments
blog comments powered by

Disqus
Content provided by Fetch Publicity © 2013, all rights reserved.
Systems powered by Stallic © 2013, all rights reserved.