'A balls to the wall awesome ZOMBIE Film… Scary as f★★k.!' Harry Knowles - AINT IT COOL NEWS
Visit the ANCHOR BAY FACEBOOK FAN PAGE for your chance to win ten great horror DVDs to celebrate the Halloween season.
If you haven't picked up The Ford Brother's amazing Zombie movie THE DEAD yet, then here's your chance. Other fantastic titles include the visually stunning Giallo remix Amer, the no holds barred remake of I Spit on Your Grave - which takes the brutality of the original exploitation classic to new levels of excess - exploding heads classic Scanners and the quirky, comic book comedy mirth of I Sell The Dead.
Entering couldn't be easy. Follow this LINK and tell Anchor Bay what your favourite horror movie is. What are you waiting for?
---
---
---
---
The Dark Continent becomes a Dead Zone in the first zombie road movie set against the spectacular vistas of Africa. A stunningly shot horror announcing the arrival of the Ford Brothers on the global genre scene, THE DEAD is as much an emotional journey through terror terrain as it is a physically demanding and beautiful-looking one.
Shot in life-threatening, never-before-seen locations in Burkina Faso, French-speaking West Africa, and Ghana, including the Sahara Desert, on 35mm film by the Ford Brothers, THE DEAD is the ultimate Zombie movie.
American Air Force engineer Lieutenant Brian Murphy (ROB FREEMAN) survives a plane crash and runs the gauntlet across Africa, battling with the living dead. Joining forces with local military man Sergeant Daniel Dembele (PRINCE DAVID OSEI) who is searching for his missing son amongst the chaos, they must fight together if they are to survive the flesh-eating horrors of the bush.
Indelible Productions and Latitude Films present THE DEAD starring Rob Freeman (Saving Private Ryan, The X-Files, Smallville), Prince David Osei (Pirate of the Night, The Dons in Sakawa, Kiss Me If You Can) and David Dontoh (Welcome Home, No Time To Die). The highly anticipated horror chiller is written and directed by Howard J Ford and Jon Ford (Mainline Run, Distant Shadow). Produced by Howard J Ford, executive producer is Amir Moallemi and the director of photography is Jon Ford. Music is by Imran Ahmad (The Greenwich Village Massacre, In His Shoes, Mayomi, The Foundation), special and visual effects by Dan Rickard with special make-up effects by Max Van De Banks (Whatever Happened To Pete Blaggit?, Born of Hope).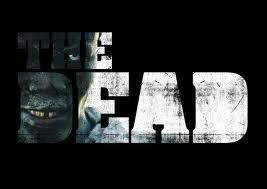 PRESS QUOTES
"The most beautiful zombie film ever made" – Billy Chainsaw, SHOCK HORROR
"The movie die-hard zombie fans have been waiting for!" - Michael Gingold, FANGORIA
"The most realistic living dead film since Romero's 1968 classic" - SCREAM MAGAZINE, 4 Stars
"The Dead is a desolate safari of splatter-baked survival - James Kloda, DARKSIDE
The most original zombie movie of the year"- Chris Tilly, IGN.COM
"An awe-inspiring epic vision". Anton Bitel - SIGHT & SOUND
"A beautifully shot horror film with an epic quality" - SCREEN INTERNATIONAL
All we want for Christmas is this movie…" DREAD CENTRAL
"One of the most buzzed about films of the year" – BLOODY DISGUSTING
'A unique and intriguing zombie horror' – Nikki Baughan, MOVIESCOPE
'A balls to the wall awesome ZOMBIE Film… Scary as f**k.!' Harry Knowles - AINT IT COOL NEWS
'Intense, bleak, even apocalyptic and matches the work of Romero. Brilliant stuff' – James Whittington, HORROR CHANNEL
"A haunting, visually striking sun-scorched nightmare' – Chris Alexander, FANGORIA
Distributor:

Anchor Bay

Certificate:

18

Release date:

10th October, 2011

Running time:

90 Minutes

Extras:

Deleted Scenes, Behind The Scenes, Edited footage, 'African View', Audio commentary by directors

Director:

The Ford Brothers

Stars:

Rob Freeman
Prince David Osei
David Dontoh
Credits
Distributor:

Anchor Bay

Certificate:

18

Release date:

10th October, 2011

Director:

The Ford Brothers

Stars:
Content provided by Fetch Publicity © 2013, all rights reserved.
Systems powered by Stallic © 2013, all rights reserved.