"A LEAN, MEAN AND NASTY LITTLE MASTERPIECE."
11th May 2012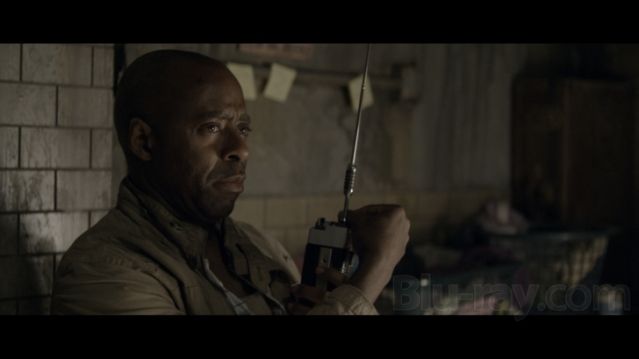 Q: Are you expecting people will walk out of this film?
A: Yes, but I think it's a proposition. When you are making a movie, if people feel offence, they have to know what they are going to see before. If you have a movie where there is violence in it, and you are sensitive, then I think it's important that you don't go to see it. I'm the kind of audience member who loves to be scared a little bit. I love to see some unexpected situations. And I think in The Divide we are trying to provoke some unexpected feeling. It's good to see that kind of reaction because you don't expect that!
Q: The final shot in the film is remarkable. How did you do it?
A: We created it using CGI – with photographic compositing. It took five months to make it. It was not complicated to plan, though. As soon as I wrote it, it was something cool to film. It's very cinematic. It was just technically complicated. It's very long, it's the movement and the guys that did it, it broke their minds! But it works. It took a lot of time but I'm really happy with it.
"A LEAN, MEAN AND NASTY LITTLE MASTERPIECE." – John Fallon ARROW IN THE HEAD.
Strongly tipped as a filmmaker to watch on the strength of his astonishing debut feature "Frontier(s)" and hard-hitting follow up "Hitman", director Xavier Gens fulfils all expectations with his latest offering, The Divide, an intense, post-apocalyptic shocker hailed as "a must-see" by Aint It Cool News and described by Screenjabber.com as "a film of extreme visual flair… thrilling… thought provoking, exciting highly recommended."
Adding further pedigree to the film's impressive credentials is a stellar cast of familiar horror, sci-fi and cult genre movie stars that includes Michael Biehn (The Abyss; Aliens; The Terminator), Lauren German (Hawaii Five-O; Hostel: Part II), Rosanna Arquette (Pulp Fiction), Milo Ventimiglia (Wolverine; Heroes), Courtney B. Vance (Final Destination 5; FlashForward) and Ashton Holmes (Nikita; The Pacific).
As an onslaught of nuclear missiles from an unknown assailant falls on New York City, a small group of tenants and the caretaker of an apartment building manage to find refuge in the building's bunker-like basement. But as the days and nights slowly tick by, their sanctuary starts to resemble something more akin to a living hell. Adding further terror to the situation, the shelter is unexpectedly attacked by mysterious armed assailants wearing hazmat suits, their motives unknown but their merciless method of assault all too clear. This new threat forces the trapped victims to unite against a common enemy but it is a unity that proves to be short-lived.
With little chance of rescue and only unspeakable horrors and almost certain death awaiting them on the outside, the survivors slowly begin to descend into madness as food and water supplies dwindle, tensions flare and self-preservation becomes the only option. The ensuing power struggle leads to physical, psychological and sexual torment among the group as each member loses touch with his and her humanity. Despite this, one individual holds on to the hope of some form of salvation beyond the thick concrete walls of what may soon become nothing more than a tomb.
From its terrifying opening sequence to its breathtaking and totally unexpected finale, The Divide grips like a vice throughout and sees the ever-excellent Michael Biehn delivering one of the most riveting performances of his career.
The Divide (cert. 18) is released by Momentum Pictures and will open at selected UK cinemas on 20th April 2012. It will be available on Video On Demand from 30th April 2012 and available to Download and on DVD (£12.99) from 14th May 2012.
Please install the latest version of Flash.
Distributor:

Momentum Pictures

Certificate:

18

In Cinemas:

20th April, 2012

Release date:

14th May, 2012

Director:

Xavier Gens

Stars:

Michael Biehn
Lauren German
Rosanna Arquette
Milo Ventimiglia
Courtney B. Vance
Ashton Holmes
Credits
Distributor:

Momentum Pictures

Certificate:

18

In Cinemas from:

20th April, 2012

Release date:

14th May, 2012

Director:

Xavier Gens

Stars:
The Divide Live on the Web
Content provided by Fetch Publicity © 2013, all rights reserved.
Systems powered by Stallic © 2013, all rights reserved.